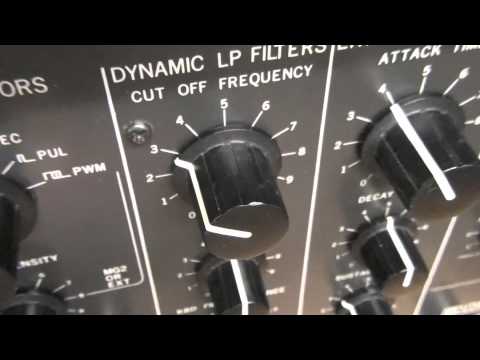 Today at The Lab, we finally finished a project that has been a long time in the making. A complete restoration of a Korg PS-3300. It came in with a simple intermittent issue, but when it rains, it pours.  When we dived deeper into this beasty, we knew it was going to be much more than a simple repair.
I already mentioned the intermittent problem, but we soon found an edge connector for one of the circuit cards had been cracked. We saw that a previous owner had attempted to reinforce the connector with an aluminum bracket, but it was already gone. Whilst replacing the edge connector, we discovered that ALL the edge connectors were cracked and in desperate need  of replacing. Sooooo, we called up the client and gave him that bad news, and suggested we treat it as a restoration rather than repair. He agreed and we were on our way.
The unit had a very well thought out color code for its wiring system, which was hand wired, but one issue was numerous bus wire connections between sets of cards had to be re-fabricated and connected to the new edge connectors. After all was said and done and the unit was in test mode, we also found a lot of dy solder joints that happened over time. They were all traced down and re-soldered. Of course the power supply caps were getting a little leaky, so they were also replaced.
Finally, we cleaned all the pots and switches on the front panel and re-checked all the new connectors. We burned in the unit for a few days and recorded a video with Gymnnopedies No 1 by Satie.
The client came and was visibly thrilled, and all was well once again.
The End.

Created with Admarket's flickrSLiDR.
Related posts: